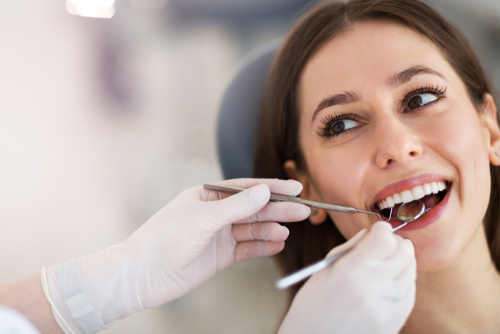 Visit Your West Roxbury General Dentist to Maintain Healthy Teeth and Gums
General dentistry is the backbone of modern dentistry and the foundation of dental care that every person needs to maintain healthy teeth and gums. At West Roxbury Dental Arts, we provide comprehensive general dental care, focusing on each patient's unique oral health and smile goals.
General Dentist in West Roxbury Provides Comprehensive Oral Health Care
Each West Roxbury general dentist at our practice is honored to deliver exceptional preventive care to our patients. It is our duty to support the functionality, appearance, and longevity of your smile, and that begins with good oral health.
We offer comprehensive general dentistry treatments, which include:
Teeth Cleanings and Dental Exams
Teeth cleanings and dental exams are recommended every six months. No matter how well you brush and floss, a hygienist's tools are the only thing that can truly remove built up plaque and tartar. These appointments also give your dentist an opportunity to look carefully at your teeth and gums for signs of developing problems or areas of concern. You won't notice hairline cracks or see the decay in your tooth that x-rays reveal. Cleanings and exams keep your oral health intact so you can have healthy teeth for a long time.
Oral Cancer Screenings
An oral cancer screening is an essential part of every dental exam. Your West Roxbury general dentist examines your entire mouth – gums, lips, cheeks, palate, tongue, and neck – for any signs of oral cancer. This aggressive cancer is highly treatable when caught early, and your dentist is trained to notice any small signs of trouble that you would not see yourself.
Sealants
Dental sealants are often recommended for children and their newly erupted permanent teeth. Kids are still developing good brushing skills and it's good to have help maintaining strong oral health. This clear coating is brushed on the chewing surface of a tooth to help prevent tooth decay.
Night Guards
Many people hold stress in their jaw and find themselves grinding and clenching their teeth, particularly while they sleep. A customized night guard protects you from the damage that can result from gnashing your teeth together, including worn enamel, damaged dental work, gum recession, and broken teeth.
Sports Mouth Guards
Wearing a protective mouth guard while playing sports helps minimize the likelihood of dental damage and trauma should you collide with another player, fall, or take a hit to the mouth. Sports mouth guards are for children and adults, whether playing contact or no-contact sports.
TMJ Therapy
The temporomandibular joint, also known as the TMJ, is the root of painful oral health problems for many people. When the TMJ is out of alignment, it can lead to teeth grinding and clenching, which results in tooth damage, headaches, and tooth and mouth pain. Many people choose the quickest method to address this problem – a night guard. Other patients want the permanent solution for TMJ problems and that comes through aligning the teeth using orthodontics like Invisalign.
Emergency Dental Care
Dental emergencies happen and we are always ready when you need a West Roxbury emergency dentist. Whether you've lost a tooth, suffered a blow to the mouth, have severe tooth pain, or lost a crown or filling, contact us immediately to find out whether you need emergency dental care.
Choose an Experienced West Roxbury General Dentist to Take Care of Your Teeth
Your oral health is our priority. We are dedicated to helping you maintain the health of your teeth and gums so you have strong teeth that last a lifetime. At West Roxbury Dental Arts, we offer general dental care in a comfortable, calm environment. Contact us today to schedule an appointment for yourself or your child.