Get Immediate Results with West Roxbury Teeth Whitening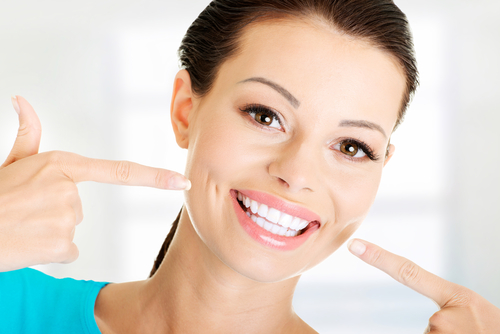 The fastest route to a bright, white smile is a professional teeth-whitening treatment. The powerful bleaching agents used in the whitening products at West Roxbury Dental Arts address the root of nearly every tooth stain and reveal stunningly white teeth.
The Advantages of Professional Teeth Whitening
The bleaching elements in your West Roxbury dentist's whitening treatments are carefully calibrated to create a smile that is evenly whitened. The professional-grade whitening varnish or gel is long-lasting and immediately effective, so you get a dramatically whiter smile in no time and can keep it for years with proper care.
Compared with the effectiveness of professional teeth whitening, over-the-counter whitening treatments can't make a dent in the brightness of your smile. Many at-home whiteners remove surface stains effectively – they just can't go deep down in your enamel to make a long-lasting impact.
There is no shortage of options when it comes to whitening products. White strips, whitening toothpaste, mouthwash, and everything in between can be found in the store – but with so many variations, how do you know what's effective or worth the money? Wouldn't you rather invest in a sure thing? Professional teeth whitening delivers results for the right patient.
The Benefits of West Roxbury Teeth Whitening
If you're already considering whitening your teeth at your West Roxbury dentist's office, you know the benefits of this smile makeover procedure:
Fast results, sometimes in about an hour.
Non-invasive.
More effective than DIY whitening.
Look healthier.
Look younger.
Look happier.
Boost your confidence.
Think about how often you have been self-conscious about your teeth, especially if you're speaking with someone who does have beautiful, white teeth. Your self-esteem will skyrocket when you can smile proudly without worrying that you're being judged because of the appearance of your teeth.
At West Roxbury Dental Arts, we offer ZOOM! one-hour whitening, an affordable and dramatic makeover that can make your teeth up to eight shades whiter. You can truly get a whiter smile on your lunch break, before the big meeting, in time for the major date, or for that special occasion – in just about an hour. Also available: Take-home bleaching kits made with professional-grade bleaching products.
Can Professional Teeth Whitening Work for You?
Professional teeth whitening isn't for everyone. Many people learn this the hard way by spending dollar after dollar looking for the most effective at-home whitener. It may not be the product itself that's failing you – you may just have teeth that can't be whitened.
Your West Roxbury cosmetic dentist will tell you for certain whether you're a good candidate for a professional whitening treatment and, if you're not, what options are right for you. There is always a smile makeover procedure that works for you when you want a whiter, more beautiful smile.
Some patients suffer from tetracycline stains, a side effect of medication taken as a child. Some people have naturally yellowish teeth because of thin tooth enamel that allows the off-white dentin to be more visible and makes teeth more susceptible to tooth stains, even if you're dedicated to proper brushing and flossing. Some stains are too deep to break apart, like those caused by nicotine.
If your teeth can't be whitened, one of the best alternatives is porcelain veneers – and they do more than brighten your smile, they make it flawless by correcting every single aesthetic issue, from chips to gaps to crooked teeth, all in one procedure.
Learn More About Teeth Whitening from West Roxbury Dental Arts
Just remember, your teeth don't have to be perfect to be worthy of whitening. White teeth give the illusion of perfection. Gaps, crooked teeth, or other minor flaws are easily overlooked when teeth are bright white and your smile is genuine.
If you're ready to talk white teeth, contact Dr. Srismitha Modem at West Roxbury Dental Center in West Roxbury, MA to find out how to get your personal best smile, whether through teeth whitening or another cosmetic dentistry treatment.