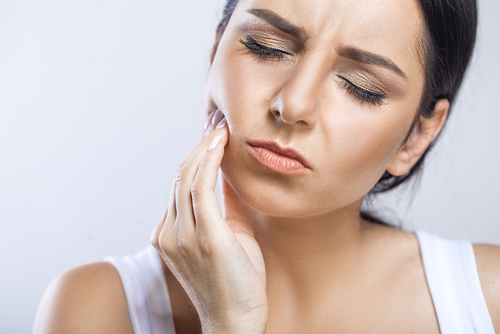 If you have a dental emergency, contact us right now at 617-652-5300.
Tooth pain is brutal and doesn't go away on its own. If you are having emergency tooth pain, don't try to endure it. Contact West Roxbury Dental Arts to get the immediate care you need, get rid of that awful pain, and prevent your problem from getting any worse.
Causes of Emergency Tooth Pain
Some people experience severe tooth pain that comes on quickly. Others develop tooth pain slowly, so it seems like an ache that could just go away on its own. Both situations are serious and a sign that something is wrong with your oral health.
The causes of emergency tooth pain vary, but can include:
Deep tooth decay
Infection
Abscess
A hit to the mouth
Damaged dental work
Tooth pain often comes from poor oral health care. If you avoid the dentist because of anxiety or skip dental cleanings and exams because you're busy, you're not helping yourself. Good brushing and flossing habits at home are great, but if you don't supplement these efforts with professional care, you're leaving yourself open to dental problems.
Seeing your West Roxbury dentist every six months means your teeth and gums are reviewed to ensure that they're healthy, clean, strong, and free of decay, cracks, infection, or other problems. If you are proactive about your oral health, you can avoid dental problems for a lifetime.
Treatment for Emergency Tooth Pain
If bacteria is to blame for your tooth pain, dental problems will only intensify if left untreated. Where a problem could potentially have been solved by a tooth-colored filling, allowing the pain to grow typically creates a need for a larger dental restoration. Serious infections could require a root canal and porcelain crown, or maybe even an extraction.
Any blow to the mouth – whether suffered in a car accident, sporting match, fall, or fistfight – can cause immediate tooth pain if a tooth is damaged, knocked out of place, or loosened. The roots or crown of the tooth could be damaged. You need a West Roxbury dentist to examine the area and make a diagnosis so treatment can get started as quickly as possible.
A common mistake that many people make is waiting to see if the tooth pain will diminish. It won't. If the pain is severe, it will only get worse. You'll be miserable and your ability to carry out the responsibilities of your daily life will be affected.
You also can't diagnose yourself. X-rays are needed to confirm the diagnosis, though your West Roxbury emergency dentist can often see what the problem before further investigation is completed. In the best case scenarios, you have time and options to consider to alleviate the tooth pain. In the less ideal situations, you will need treatment right away to address the discomfort and stop the problem from progressing.
Tooth pain is no joke, but with the appropriate treatment, the problem can go away quickly. The sooner you see your dentist, the less time you will have to spend in the dentist's chair.
Get Help for Emergency Tooth Pain in West Roxbury
Tooth pain is a sign that something isn't right with your oral health. Typically, severe pain indicates that something is not right within your tooth or in the roots. Don't wait until your next dental check-up to have your tooth looked at.
If you have severe tooth pain, call us right now at 617-652-5300.
We understand if you're nervous about seeing the dentist. It's not uncommon to be worried about what's happening with your teeth, fear that the pain will never stop, and dread the diagnosis and recommended treatment plan.
Let us help you through your emergency tooth pain with gentle care and patience. Contact West Roxbury Dental Arts to get immediate treatment for your tooth pain.o