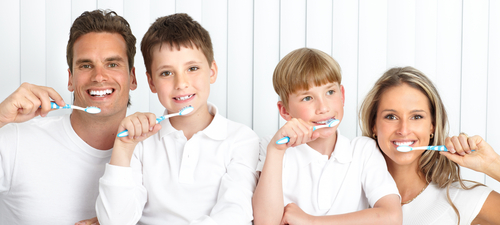 Rely on Your West Roxbury Family Dentist
Every family needs a dentist they can rely on for all their oral health needs. From routine cleanings to dental restorations, West Roxbury Dental Arts offers comprehensive dental care for all ages, including general dentistry, cosmetic dentistry, periodontal treatment, and restorative dentistry.
Comprehensive Dental Care at Family Dentist in West Roxbury
We treat your entire family through our extensive list of dental services. No matter what age, what oral health need, what kind of smile upgrade, or what kind of problem or emergency, our talented dentists are prepared to provide the important dental care you need.
West Roxbury Dentist for Kids
Kids have a lot going on with their teeth. Permanent teeth coming in, baby teeth going out. You want a dentist who can address every possible situation that comes up where your children's oral health is concerned, including:
Cleanings and exams (to keep their mouth, teeth, and gums clean and healthy).
Sealants (to protect those newly erupted permanent molars).
Gentle extractions (for those baby teeth that just won't budge).
Fillings (because kids aren't always the best brushers).
Crowns (because sometimes a cavity is too big to fill).
Emergencies (because sometimes a tooth gets dislodged or knocked out).
Orthodontics (to evaluate those wonky kid teeth for future braces).
Dentist in West Roxbury for Adults
Busy adults still make time for dental visits twice a year. You only get one permanent set, after all, and caring for them takes concentrated effort. Your West Roxbury family dentist can help you in every situation:
Preventive care (basic dental care like cleanings, exams, x-rays, and oral cancer screenings).
Cosmetic dentistry (upgrades to your smile using porcelain veneers, dental bonding, Invisalign, and teeth whitening).
Restorative dentistry (repairs for problem teeth with root canal therapy, tooth-colored fillings, porcelain crowns, dental bridges, and dental implants).
Periodontics (deep cleaning to prevent and correct gum disease).
Senior Dental Care in West Roxbury
After decades of use and, potentially, plenty of corrections and upgrades, your teeth in your senior years can give you trouble.
General dentistry (thorough, careful teeth cleanings, exams, and evaluations to keep mouth and body healthy).
Tooth replacement (dental implants and dentures to replace lost or extracted teeth).
Cosmetic enhancements (porcelain veneers or teeth whitening to transform your smile or repair outdated aesthetic efforts).
Gum disease therapy (careful cleaning and periodontal treatment for those at risk of gum disease and tooth loss).
A West Roxbury Dentist for Every Oral Health Need
At West Roxbury Dental Arts, we are proud to keep as many dental procedures in-house as possible, so you don't have to travel all over Boston searching for specialists. Our gentle, caring dentists offer comprehensive care that includes:
Cleanings and exams
Crowns
Dental implants
Fillings
Full-mouth rehabilitation
Gum surgeries
Inlays and onlays
Invisalign
Night guards
Oral cancer screenings
Porcelain veneers
Removable dentures
Root canal therapy (endodontics)
Sleep apnea treatment
Soft tissue grafting
Sport guards
Teeth whitening
TMJ therapy
West Roxbury Family Dentist for All Ages
If you are in search of a West Roxbury family dentist that incorporates state-of-the-art equipment with personalized care, our team will deliver. We don't just tend to whatever acute matter you're experiencing, we get to know you as a patient, understand your health history, and ask questions so we can provide personalized oral health care.
Whether you are new patient, anxious, or haven't been to the dentist in some time, we want to see you. Our goal is to help every patient achieve their oral health goals. Visit West Roxbury Dental Arts in West Roxbury, Massachusetts for family dental care. Contact us today to schedule your appointment.