Customized Dentures Replace Missing Teeth for a Complete Smile
Dentures are a logical and reliable way to replace missing teeth. When you fill in the holes in your smile, you will once again have teeth that work well and allow you to eat and speak confidently. If you're ready to talk about the options available to replace your missing teeth, talk to the dentists at West Roxbury Dental Arts to determine whether dentures are right for you.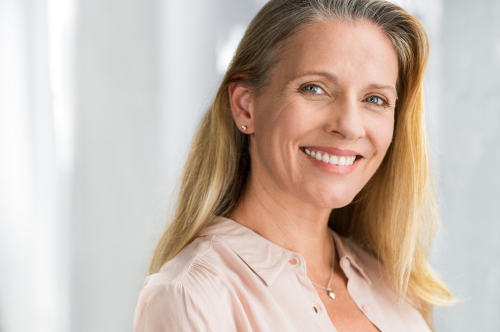 The Benefits of Today's Dentures
Missing teeth are not only a cosmetic issue, they're a functional problem. Without all your teeth, you can feel self-conscious, embarrassed, and uncomfortable, especially when eating and speaking.
Not everyone thinks of dentures positively, but the modern version of this dental restoration is far more reliable than dentures of the past.
Today's Dentures Boast the Following Perks:
Comfortable
Secure fit
Easier to care for
Discreet
Natural appearance
Customized
Dentures from your West Roxbury dentist are carefully designed to suit your mouth, improving the fit, security, and durability of your dentures. Your new smile will be made of teeth that are the right color, size, and shape for you, and the dentures will be fitted until they feel just right. Replacing your missing teeth improves the entire appearance of your face.
Types of Dentures
The loss of permanent teeth can happen for many reasons, including accident, decay, gum disease, age, infection, or extraction. When dentures are called for, the repair involves the replacement of natural teeth and surrounding tissues.
The Different Types of Dentures Include:
Complete dentures: This traditional version of dentures typically replaces an entire arch of teeth on the top of your mouth. Complete dentures must be removed for cleaning and they do require adhesive to keep them in place. Careful customization and adjustment allow for comfort and a snug fit along the gum line. This type of dental restoration includes a piece that covers your palate which usually requires an adjustment period for your mouth tissues and muscles.
Partial dentures: This type of removable denture is intended to replace several missing teeth at once and is typically fitted in place using clasps. This design allows the denture to be removed for daily cleaning. With a partial denture in place, the remaining neighboring teeth are prevented from drifting into the empty spaces created by missing teeth.
Permanent dentures: For patients who very much want to avoid removable dentures, adhesives, and the covering of their palate, there are permanent dentures. This dental restoration can include the placement of dental implants which then have a denture permanently attached. This repair is secure and strong, looks natural, and allows teeth to function normally. In some cases, a denture can be anchored in place with dental crowns.
The Importance of Replacing Missing Teeth
Missing teeth are no longer an unsightly space in your smile, their absence changes the shape of your face. When tooth roots are no longer stimulating the jawbone, bone deterioration will occur, creating a sunken or compressed look. This dramatic change takes place over time, but it can make you look years older.
With dentures in place, you will start your smile over again, especially if your tooth loss was caused by poor oral hygiene. Any dental restorations require upkeep, just like permanent teeth and gums. Brushing, flossing, and regular visits to your West Roxbury dentist are essential for making sure your mouth stays healthy and your dentures work properly.
Discover the Best Way to Replace Your Missing Teeth
If you're still concerned about whether dentures are right for you, schedule an appointment at West Roxbury Dental Arts to discuss all tooth restoration options, including dental implants and . There is a treatment that is right for your oral health, budget, and smile goals.