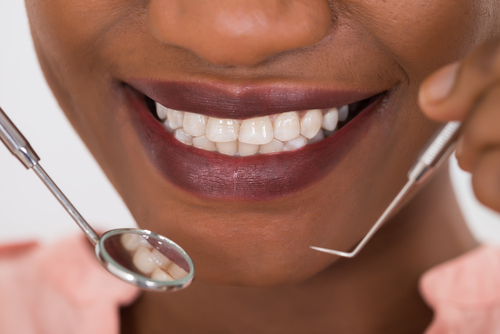 Keeping appointments as an adult isn't easy. You have work and family obligations, you want some downtime, and carving out an hour in the middle of your day to see to your teeth isn't easy. In fact, many people don't make a dental check-up a priority. We understand that you have plenty to do, but taking the time to tend to your teeth and gums will save you time, expense, effort, and pain now and in the future.
Here are just some of the important reasons to keep your dental check-up every six months:
1. The Teeth Cleaning
There is no substitute for a professional teeth cleaning. No matter how well you brush and floss at home, only the tools of a dental hygienist can truly get in between the crevices of your teeth and enamel. Scraping away hidden, built-up plaque and tartar gives your teeth a clean slate.
Eliminating the gross stuff from your teeth also means there are limited opportunities for decay to form and damage your oral health. In other words – clean teeth mean fewer cavities, fewer dental restorations, no need for root canals, and less time in the dentist's chair.
2. The X-Rays
X-rays are recommended once a year so your West Roxbury dentist can get a good look at what's going on inside your teeth, not just on the surface. These detailed images, taken at supremely low radiation, make it clear where areas of decay may be starting and if there are any other underlying issues that need to be addressed sooner rather than later.
3. The Dental Exam
Dental exams are traditionally brief but, wow, are they important. Your dentist can see in minutes what you would never be able to discover even if you stared at your teeth for hours. Just some of the problems your dentist is looking out for:
Oral cancer: Your dentist is trained to recognize oral cancer, the telltale patches and redness glaring at them from inside your mouth. Catching this disease at the onset gives you the best chance for aggressive treatment and quick recovery. An oral cancer screening allows your dentist to look at your gums, lips, cheek, palate, tongue, and more.
Gum disease: When gum disease is caught in its early stages, there is no chance for it to balloon into periodontal disease. Your dentist looks for red, swollen, inflamed gums so the problem can be treated immediately. If you avoid the dentist and allow your oral health to fall into disrepair, full-blown gum disease can lead to loosening and lost teeth along with the pain, discomfort, and unsightliness that are hallmarks of gum periodontitis.
Cracks and chips: X-rays reveal the depths of what's hidden in your teeth, but your dentist can see the hairline cracks and problematic chips that make your teeth susceptible to damage and decay.
See Your West Roxbury Dentist for a Cleaning and Exam
Dental exams and check-ups are designed so your teeth can get a thorough cleaning and your mouth can undergo careful examination. This is also the time to discuss any questions you have with your dentist and hygienist. Find out whether you're a good candidate for cosmetic dentistry, get recommendations about the best tools to take care of your teeth, and know that you have a strong partner in your efforts to maintain your oral health.
Schedule your dental check-up and teeth cleaning appointment with West Roxbury general dentist Dr. Srismitha Modem. At West Roxbury Dental Arts, we support your oral health and proudly serve our neighborhood and surrounding areas so you can have strong, beautiful teeth – permanently.