When you look in the mirror, are you happy with what you see? Loving yourself is a critical component of confidence and self-worth, and your smile is part of the whole package. If you feel unattractive because of your teeth, address your concerns with your West Roxbury cosmetic dentist. There is a smile makeover that's right for you and, just in time for Valentine's Day, it'll help you love your smile again, so others can love you.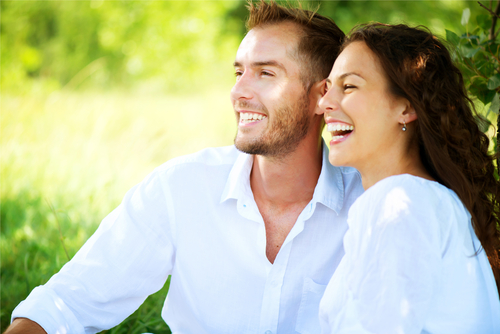 1. Open wide for porcelain veneers.
For patients who have multiple complaints about their teeth, porcelain veneers can be the one cosmetic dentistry treatment that corrects everything. From chipped to oddly shaped teeth, gaps to misalignment, stains to discoloration, one set of veneers conceal all your unsightly dental problems.
Veneers are customized to every patient in size, shape, and color so they look natural, blend beautifully with the shape of your smile, and complement your overall appearance. Super-thin and super-strong, veneers can last for decades with daily cleaning and flossing and two visits a year to your West Roxbury dentist for a dental cleaning and check-up.
2. Say yes to professional teeth whitening.
Professional teeth whitening is still a little dental miracle. Even if your teeth aren't perfect, if they're healthy but dingy, a teeth-whitening from your dentist will brighten them by multiple shades. Your smile will be gleaming and make you look healthy, not to mention you'll look happier because you'll be smiling so much to show off your beautiful teeth.
DIY teeth whitening treatments have nothing on professional whitening. The powerful bleaching agents in a dentist's whitening materials go beyond the surface of the teeth to break up stains completely.
3. Appreciate the quick fix with cosmetic tooth bonding.
When you have a dental complaint that seems small but seriously interferes with the appearance of your smile and your confidence, cosmetic tooth bonding is a fast, non-invasive way to make a correction.
If a tooth is jagged, chipped, or discolored, tooth bonding will whiten the tooth or build it up so it blends in with your natural teeth. Sometimes, tooth bonding can take the place of a dental crown.
4. Fill the holes with dental implants.
A hole in your smile is noticeable, and it's not healthy. Every tooth in your mouth holds an important position. Each tooth is responsible for holding up that portion of your smile. When a tooth is missing or needs to be extracted, replacing that tooth root is critical to maintain the shape of your face and prevent other teeth from moving in to fill the gap.
Dental implants are designed to permanently take the place of a missing tooth root to stimulate the jaw and keep your mouth and foundation of your smile healthy. The implant is topped with a natural-looking crown so no one will ever know you had a dental restoration.
Get a Smile Makeover in West Roxbury
Make yourself look younger, healthier, happier, smarter, and wealthier with a smile makeover that's customized to your needs. Contact West Roxbury Dental Arts in West Roxbury today to schedule your consultation and find out how to love your smile again.