If you have ever hidden your teeth behind your hand, avoided smiling even though you wanted to, or neglected to speak up so you wouldn't draw attention to your mouth, then you know just how important a good smile is. Porcelain veneers are one of the most popular and effective ways to upgrade your smile and give you the kind of teeth you want to show off.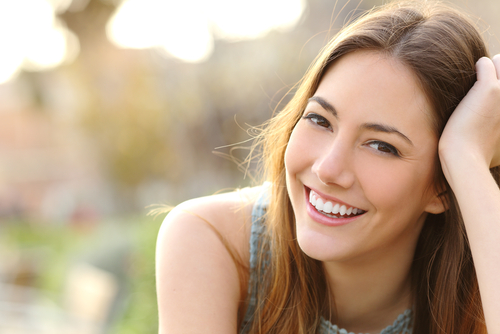 Life-Changing Porcelain Veneers in West Roxbury
A beautiful smile can change your life. Many people choose porcelain veneers to give them the smile makeover they've always envisioned: straight, white, natural-looking, and flawless. The celeb smile you covet can be yours, and all the perks that come with it.
Here are just some of the ways porcelain veneers can change your life:
You'll be more confident. No one likes to admit it, but appearance matters. Your smile has a major impact on how you feel about yourself and how others perceive you. If you can't smile confidently at yourself in the mirror, you'll never feel comfortable in front of others. A smile makeover created with porcelain veneers is powerful enough to renew your confidence.
You can correct multiple smile complaints. Porcelain veneers are versatile. If there are many reasons you're embarrassed to reveal your teeth, veneers can probably fix the problem (as long as your gums are healthy). Eliminate stains and discoloration. Get straight teeth. Eliminate gaps. Conceal chips or cracks. Everything you hate, veneers can make disappear.
You will look younger. Your teeth work hard every day and, over time, they can begin to show their age. That doesn't mean you have to accept the inevitable. Porcelain veneers are customized to upgrade your smile while still giving you a natural look. You won't be of a certain age and showing off veneers that are too white – your veneers will be designed so they're just right for your age, gender, face shape, and complexion. Cosmetic dentistry can be your fountain of youth.
You will look healthier. Broken-down teeth can make you look like you're unwell or that you don't take care of yourself. You may have clean, healthy teeth free of decay or disrepair, but if the enamel looks dingy, if you have odd-sized or odd-shaped teeth, if you have major gaps that look like missing teeth, cover it all with veneers. You will be the picture of good health.
Let Your Smile Guide You to Happiness
When your teeth look good, you won't have any hesitation about speaking up, giving a memorable presentation, nailing that job interview, or even saying hello to someone new. Your job opportunities can improve, your social life flourish, and your self-esteem increase when you have a gorgeous smile accompanying you.
Choose a West Roxbury cosmetic dentist who can create your life-changing porcelain veneers smile makeover in Boston. Contact West Roxbury Dental Arts today to schedule your consultation to discuss veneers and other cosmetic dentistry procedures.